Waipukurau Construction was created in 1973 by two young, Central Hawkes Bay builders, John Hands and Brian Cairns.
About Waipukurau Construction
Waipukurau Construction's first transportable home was constructed as a show home for the Central Hawkes Bay A.&P. Show in 1978 and was subsequently delivered to its Norsewood site for the sum of $24,000. The idea was a success and the company went on to sell 10 more new homes that year.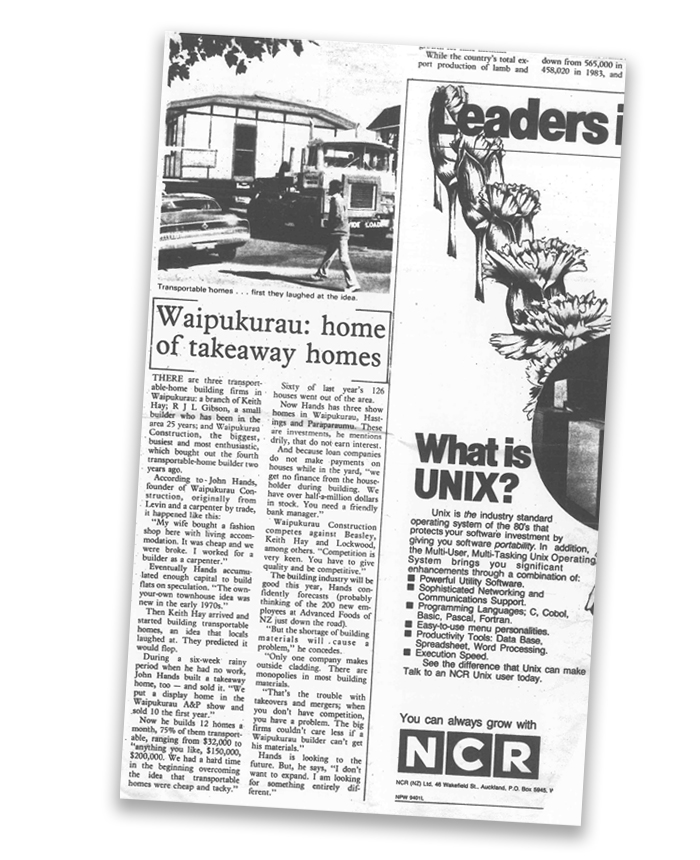 In the early 1980's there was a huge demand for transportable homes and there were four transportable housing companies located in Waipukurau. Houses were frantically being built in yards and being transported all over the North Island. At the peak of this workload, Waipukurau Construction was constructing three new homes a week! Waipukurau Construction opened show homes in Paraparaumu, Turangi, Waipukurau and Dannevirke.
The company's first foray into the Education sector also came during these times with transportable classrooms becoming a regular occurrence.
In 1979, Bruce Poole was employed with young David Kendrick following suit in 1981. These guys are still part of our team nearly 40 years later!
Waipukurau Construction diversified into civil construction at one stage and two concrete bridges were built on the main road between Tolaga Bay and Tokomaru Bay. On one occasion the carpenters were flying from Bridge Pa to Gisborne to when dense fog forced the plane to land in Wairoa. Ever resourceful and keen to get to the job site, they then caught a taxi the remaining 100 miles!
In 1995, Portmans Motor Lodge in Hastings became the first of sixteen successful motel developments throughout the North Island. The company became quite proficient at this type of development. A quality, turn-key motel business was provided to motel operators.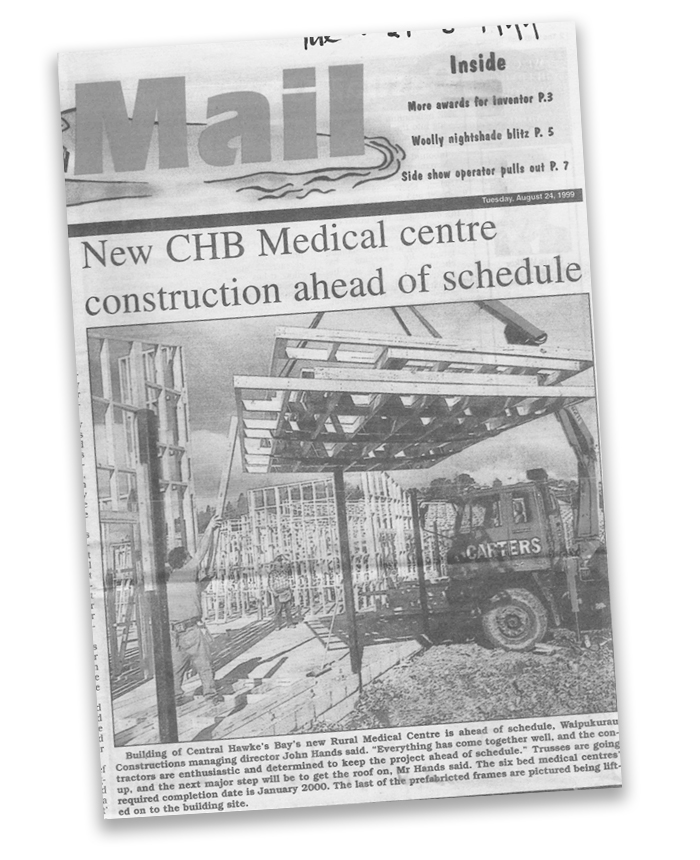 In 1996 Gordon Spencer began to work for the company as a Quantity Surveyor.
John decided to retire from the construction industry in 2001. Gordon and Sharon continued the work of the business and formed Waipukurau Construction 2002 Ltd.
Our joinery business, Waipukurau Joinery Ltd. was later formed in 2006 in partnership with Greg and Shelley O'Kane.
Now days, with a team of around 15 employees, the company has evolved with an emphasis on light commercial and residential work. There has also been a shift towards the education sector where we excel in providing quality new school buildings and alterations. The location of our work has also shifted with more activity in the Napier – Hastings areas.
Our vision for the future is to build on our long-standing reputation, embrace sustainability and maintain professionalism whilst exceeding the level of service expected by our customers. Our team is also important and we have a focus on health and safety and upskilling in the workplace whilst also embracing the fantastic lifestyle and opportunities available to us all in Hawkes Bay.